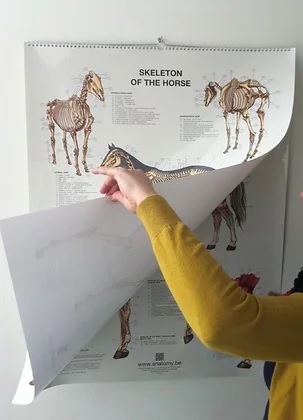 This handy set of six posters of the anatomy of the horse provides an easy way to choose which one you display at any time, while only taking up room for one. These veterinary posters are installed on an easy-to-use ringed flip-over system with a hook for easy mounting. See a new horse anatomy poster with a flick of the wrist.
Looking to purchase more than 10 sets?
We believe our veterinary anatomy posters are a valuable asset to any anatomy student and anyone in the field of veterinary anatomy or horse anatomy. Recommend our horse posters to your friends!
Despite our commitment to a fair price for all of our products, we are always open to discuss additional discounts for large purchases.
Please contact us about your larger orders, and we will offer you the very best deal we can!
Interested in more? View our other anatomical collections!
These amazing horse anatomy posters are only a fraction of our full assortment. We also offer countless other posters, as well as anatomical models and medical simulators on our other website. Have a look now!